What's the good of 'would of'?
As schoolteachers the English-speaking world over know well, the use of of instead of have after modal verbs like would, should and must is a very common feature in the writing of children (and many adults). Some take this an omen of the demise of the English language,  and would perhaps agree with Fowler's colourful assertion in A Dictionary of Modern English Usage (1926) that "of shares with another word of the same length, as, the evil glory of being accessory to more crimes against grammar than any other" (though admittedly this use of of has been hanging around for a while without doing any apparent harm: this study finds one example as early as 1773, and another almost half a century later in a letter of the poet Keats).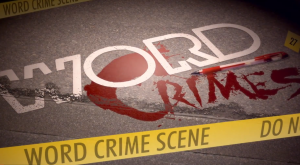 According to the usual explanation, this is nothing more than a spelling mistake. Following 'would', 'could' etc., the verb have is usually pronounced in a reduced form as [əv], usually spelt would've, must've, and so on. It can even be reduced further to [ə], as in shoulda, woulda, coulda. This kind of phonetic reduction is a normal part of grammaticalisation, the process by which grammatical markers evolve out of full words. Given the famous unreliability of English spelling, and the fact that these reduced forms of have sound identical to reduced forms of the preposition of (as in a cuppa tea), writers can be forgiven for mistakenly inferring the following rule:
'what you hear/say as [əv] or [ə], write as of'.
But if it's just a spelling mistake, this use of 'of' is surprisingly common in respectable literature. The examples below (from this blog post documenting the phenomenon) are typical:
'If I hadn't of got my tubes tied, it could of been me, say I was ten years younger.' (Margaret Atwood, The Handmaid's Tale)
'Couldn't you of – oh, he was ignorant in his speech – couldn't you of prevented it?' (Hilary Mantel, Beyond Black)
Clearly neither these authors nor their editors make careless errors. They consciously use 'of' instead of 'have' in these examples for stylistic effect. This is typically found in dialogue to imply something about the speaker, be it positive (i.e. they're authentic and unpretentious) or negative (they are illiterate or unsophisticated).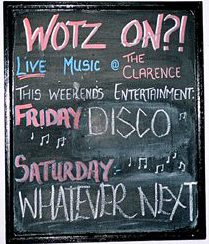 These examples look like 'eye dialect': the use of nonstandard spellings that correspond to a standard pronunciation, and so seem 'dialecty' to the eye but not the ear. This is often seen in news headlines, like the Sun newspaper's famous proclamation "it's the Sun wot won it!" announcing the surprise victory of the conservatives in the 1992 general election. But what about sentences like the following from the British National Corpus?
"If we'd of accepted it would of meant we would have to of sold every stick of furniture because the rooms were not large enough"
The BNC is intended as a neutral record of the English language in the late 20th century, containing 100 million words of carefully transcribed and spellchecked text. As such, we expect it to have minimal errors, and there is certainly no reason it should contain eye dialect. As Geoffrey Sampson explains in this article:
"I had taken the of spelling to represent a simple orthographic confusion… I took this to imply that cases like could of should be corrected to could've; but two researchers with whom I discussed the issue on separate occasions felt that this was inappropriate – one, with a language-teaching background, protested vigorously that could of should be retained because, for the speakers, the word 'really is' of rather than have."
In other words, some speakers have not just reinterpreted the rules of English spelling, but the rules of English grammar itself. As a result, they understand expressions like should've been and must've gone as instances of a construction containing the preposition of instead of the verb have:
Modal verb (e.g. must, would…) + of + past participle (e.g. had, been, driven…)
One way of testing this theory is to look at pronunciation. Of can receive a full pronunciation [ɒv] (with the same vowel as in hot) when it occurs at the end of a sentence, for example 'what are you dreaming of?'. So if the word 'really is' of for some speakers, we ought to hear [ɒv] in utterances where of/have appears at the end, such as the sentence below. To my mind's ear, this pronunciation sounds okay, and I think I even use it sometimes (although intuition isn't always a reliable guide to your own speech).
I didn't think I left the door open, but I must of.
The examples below from the Audio BNC, both from the same speaker, are transcribed as of but clearly pronounced as [ə] or [əv]. In the second example, of appears to be at the end of the utterance, where we might expect to hear [ɒv], although the amount of background noise makes it hard to tell for sure.
 "Should of done it last night when it was empty then" (audio) (pronounced [ə], i.e. shoulda)
(phone rings) "Should of." (audio) (pronounced [əv], i.e. should've)
When carefully interpreted, writing can also be a source of clues on how speakers make sense of their language. If writing have as of is just a linguistically meaningless spelling mistake, why do we never see spellings like pint've beer or a man've his word? (Though we do, occasionally, see sort've or kind've). This otherwise puzzling asymmetry is explained if the spelling of in should of etc. is supported by a genuine linguistic change, at least for some speakers. Furthermore, have only gets spelt of when it follows a modal verb, but never in sentences like the dogs have been fed, although the pronunciation [əv] is just as acceptable here as in the dogs must have been fed (and in both cases have can be written 've).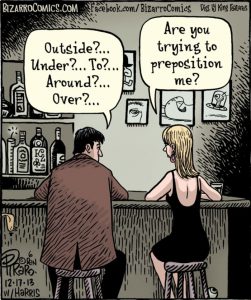 If this nonstandard spelling reflects a real linguistic variant (as this paper argues), this is quite a departure from the usual role of a preposition like of, which is typically followed by a noun rather than a verb. The preposition to is a partial exception, because while it is followed by a noun in sentences like we went to the party, it can also be followed by a verb in sentences like we like to party. But with to, the verb must appear in its basic infinitive form (party) rather than the past participle (we must've partied too hard), making it a bit different from modal of, if such a thing exists.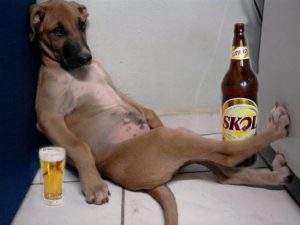 Whether or not we're convinced by the modal-of theory, it's remarkable how often we make idiosyncratic analyses of the language we hear spoken around us. Sometimes these are corrected by exposure to the written language: I remember as a young child having my spelling corrected from storbry to strawberry, which led to a small epiphany for me, as that was the first time I realised the word had anything to do with either straw or berry. But many more examples slip under the radar. When these new analyses lead to permanent changes in spelling or pronunciation we sometimes call them folk etymology, as when the Spanish word cucaracha was misheard by English speakers as containing the words cock and roach, and became cockroach (you can read more about folk etymology in earlier posts by Briana and Matthew).
Meanwhile, if any readers can find clear evidence of modal of with the full pronunciation as  [ɒv], please comment below! I'm quite sure I've heard it, but solid evidence has proven surprisingly elusive…