Words do some truly inventive things when they change, and change they always do. Some switch their sounds around, like when hros became hors, nowadays spelt with an extra e as horse. Some lose their sense of having an internal composition, like when wāl-hros 'whale-horse' became walrus. Some cave in to peer pressure and change their looks to conform with others, including one of my favourite cases in English, when under the influence of similarly-meaning words probably, possibly, plausibly which all end in -bly, we get supposably, which is how in some varieties of modern English you can say 'supposedly'. One the of truly odd things that words do though, is to start stealing sounds from their neighbours.
A famous case in English is an apron, which used to be a napron, until the n got snaffled by the a. It goes the other way too. A newt was originally an ewt. Of course, in Middle English when this n-theivery was underway, there were a few more words complicit in the heist, for example my napron also became mine apron, and your napron became yourn apron, since at that stage in English, words like my/mine, your/yourn worked like a/an. So, ever wondered why the nickname for Edward is Ned? As in mine Ed, ourn Ed? Got it? Speaking of which, nickname was originally ekename and was also involved in a swindling of n from the previous word (the eke-, which is related to eke in 'eke out a living', meant an addition or supplement, so mine ekename was my additional name).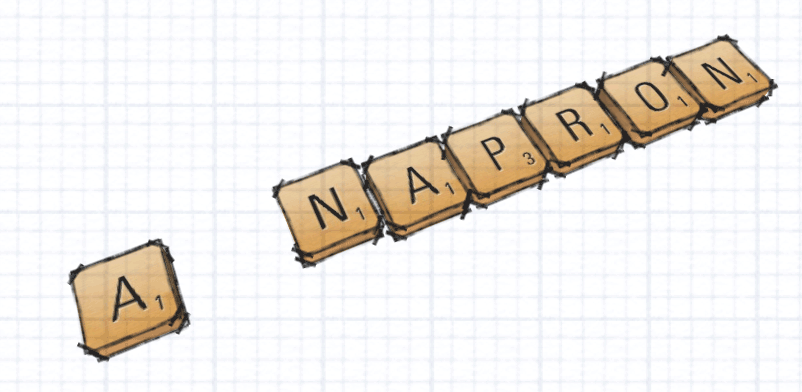 It's not only in English that words have indulged in this shifty business. In late Latin, the word originally borrowed from Greek apotheca would have been l'aboteca, which you may recognise today as Italian la bottega, Spanish la bodega or French and English boutique. In Danish, the plural pronoun meaning 'you' is I, related to English ye, but in closely related Swedish it's ni with an extra n. Where did it get it? Theft. The corresponding plural verbs used to end in -en, like haven i 'have you?', and you can see what happened next. In fact, the same game played out a thousand years earlier with singular 'you' in several West Germanic languages, except this time it was the verb that kept a piece of the pronoun, when phrases like habēs thū 'have you?' became habēst thū, which you might recognise as English havest thou.
How does all this shifting of sounds between words come about? To get an idea, try saying quickly: 'an apron, a napron, an apron', and you'll already have a sense of how this is possible. Unlike on the printed page, words in spoken language stream forth in a smooth and almost seamless flow, and the human brain performs some impressively deft reverse-engineering to slice that stream back up into words. In fact, picking out the individual words in speech is one of the first monumental intellectual tasks we embark on as infants, even before we start learning what the words mean. Recent research suggests that we may even begin this process from within the womb, where we get pre-season access to language courtesy of the muffled rhythms of speech that seep in to us from outside.
Now, you may well wonder how anyone, let alone an infant, can slice up a speech stream into individual words without knowing any of the meanings. Good question. It would appear that the brain operates like a finely tuned statistical inference machine, storing and calculating the relative frequencies at which sounds follow one another, and from this it can begin to pinpoint where the word boundaries are located, since at those boundaries, it is much less predictable what sounds will come next. The trick, then, is that word boundaries are zones of unpredictability, irrespective of their meanings. Of course, we might ask next, why is it that the sounds are so predictable inside the words? One of the reasons for that has to do with what linguists term 'phonology': the fascinating way in which sound sequences themselves are intricately structured and highly non-random within the words of human languages, but I'm afraid that for now, that's a whole nother story.