SMG – I'd Arapaho, Roon, Sala, Tubar and Nara, but alas no Oroha paradigms
A palindrome is a linguistic delight: it reads the same in both directions. For example: level. Or Anna, or indeed Hannah. This is a visual trick: if you record yourself saying one of these words and play the recording backwards, it won't sound exactly the same.
Palindromes hit the big time in the parrot sketch. They were also promoted by ABBA, with their top hit SOS!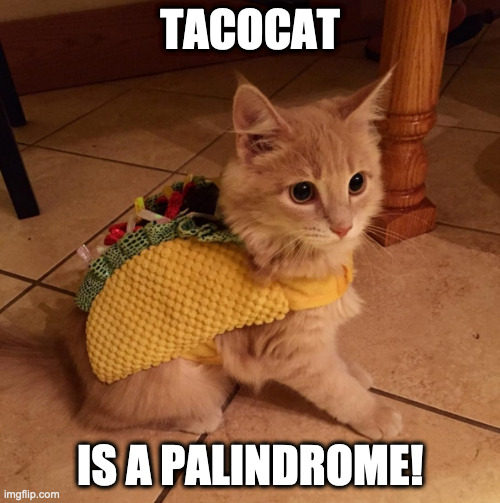 Here's a nice one from North Ambrym (an Oceanic language spoken in Vanuatu): rrirrirr 'sound a rat makes when you try and kill it but you miss it'. And a long one from Estonian: kuulilennuteetunneliluuk 'bullet flying trajectory tunnel's hatch'. I'm not sure that one is used much (except in blogs about palindromes).
We can go up a level (!), as it were, to palindromic phrases. A famous one of these is:
A man, a plan, a canal – Panama!
This has been around at least since 1948. It has often been extended, as in this version due to Guy Jacobson:
A man, a plan, a cat, a ham, a yak, a yam, a hat, a canal – Panama!
And here's a Russian sentence palindrome: Рислинг сгнил, сир. 'the Riesling has gone off, sir' More Russian palindromes at https://bit.ly/3AtxBID. For French sentence palindromes go to https://bit.ly/3kmC5LE. And there are even songs based on such palindromes:
They have palindromes in American Sign Language:
Not surprisingly, palindromes don't translate. Though we can go up another level (!) of cleverness, to the bilingual palindrome: I love / e voli. This is half English, half Italian, and overall a palindrome. More of these at https://bit.ly/39ohoZy. It's truly amazing what people can create, including whole poems as palindromes: https://bit.ly/3tTWtaa.
Some time ago, I mentioned to linguist colleagues that Malayalam (a Dravidian language of southern India) is a palindromic language. One colleague's eyes opened wide, and he asked whether it was palindromic at the word level or the sentence level. What a great idea! Of course, it's just the name which is a palindrome (just as Anna is a palindrome but that doesn't make Anna a palindromic person – there are deep issues here: what does a name refer to?).
It turns out that there are over seventy "palindromic languages", including some that are central to our research in SMG, notably Iaai (spoken in New Caledonia). Here are some more: Efe, Ewe, and Atta.
What then of E (also called Wuse/Wusehua), a Tai-Chinese mixed language, of Guangxi, China? Yes, it's a palindrome, just not a very impressive one. Just as the English pronoun I is a palindrome, though hardly one to get excited about (unless you're called Anna or Hannah of course). But it gets much better. You may have noticed that linguists increasingly give three letter codes after language names. These are the ISO codes that we use to uniquely identify a language, to make sure that we're talking about, say, the language Aja (a Nilo-Saharan language of Sudan), ISO code aja, and not Aja (a Niger-Congo language of Benin), ISO code ijg. So, what is the ISO code for the language E? It's eee. The language name and the code are both palindromes! Similarly there's U (an Austroasiatic language of the Yunnan Province of China), ISO code uuu.
Here are the languages which are doubly palindromic (name and ISO code):

| Name | ISO code |
| --- | --- |
| E | eee |
| Efe | efe |
| Ewe | ewe |
| Iaai | iai |
| Kerek | krk |
| Naman | lzl |
| Mam | mam |
| Nen | nqn |
| Ofo | ofo |
| Ososo | oso |
| Utu | utu |
| U | uuu |
| Yoy | yoy |
A real star is Naman, whose ISO code is quite different, lzl, but still palindromic. Where does that come from? Well, the language has an alternative name, Litzlitz, so when it's not a palindrome it's a reduplication!
Back to the tricky use of "palindromic language". Iaai is a palindromic name. As we've seen, its ISO code iai is also a palindrome. And the language does have some very nice palindromes:
aba 'caress'
ee 'locative – near the interlocuter'
ii 'to suck'
iei 'to hurt, cause pain'
ikiiki 'repugnant'
iwi 'rudder'
komok 'sick'
maam 'your manner'
mem 'Napolean fish (Cheilinus undulatus)'
omoomo 'women'
nokon 'his/her infant'
oṇo 'Barracuda (Sphyraena sp.)'
öö 'spear'
ölö 'mount, embark, disembark'
ölö 'legume (Pueraria sp.)'
u 'an old word for yam'
uu 'fall from a height, chop down (of tree)'
ûû 'a dispute, to dispute'
ûcû 'similar, same' (a nice meaning for a palindrome!)
ûcû 'to exchange, buy, shop'
It would be impressive if you could read this post backwards, and have it make sense. But that wouldn't be a BLOG but a GLOB, the latter being is an instance of a Semordnilap, but that is another story. For now, we welcome your favourite palindromes, in any language, in the comments.
For examples, thanks to Jenny Audring, Sacha Beniamine, Marina Chumakina, Mike Franjieh, Erich Round and Anna Thornton, and for the title (you've guessed what sort of title that is!), thanks to Steven Kaye.